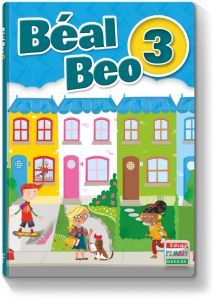 The Béal Beo pupils' book is written and designed to cover the ten themes of the curriculum
Béal Beo emphasises the importance of using Gaeilge informally throughout the school day, as recommended in the new Primary Language Curriculum. The stories follow a continuous thread which calls for a greater sense of involvement on the part of the children. It affords them the experience of reading a real book or 'fíor leabhar'
Integrates the combined strands of listening, reading, writing, speaking and oral language
The pupils' book is central to the programme and contains engaging stories with relevant and current material to suit each age group
There is also a direct focus on oral language as presented in 'Labhair Linn' the oral language activity at the beginning of each week and provision is made for child-teacher and child-child oral interaction
Drama is used as a teaching method in the grammar sections to make it enjoyable and to reinforce points of grammar
Repetition and expansion of vocabulary and feidhmeanna teanga throughout support both revision and development of the language
The textbook is designed to be both teacher- and child-friendly, with symbols to highlight where additional digital resources are available.
Sample Pages
---